Modern four-star business and conference hotel located in the heart of Tallinn just 150 metres from the picturesque Old Town. The Tallinn's Old Town is about 220 metres from the Forum, and Freedom Square is within 600 metres. Lennart Meri Tallinn Airport is just 10 minutes away by auto. Guests wishing to book a stay at the Nordic Hotel Forum have a choice of 267 elegant & spacious rooms: offering even the most demanding guests the ultimate in home comforts including air-conditioning, free WiFi wireless Internet connection, an LCD television with an interactive TV system, a safe deposit box, a mini bar and a hairdryer. There are also dedicated rooms for smokers, people with special needs and guests with allergies.
The Nordic Hotel Forum is located on the eighth floor of the lõõgastuskeskus, which offers panoramic views of the old town of Tallinn. At the disposal of the guests is the indoor swimming pool, jacuzzi, steam bath and a Jacuzzi and gym / workout room. On the first floor of the hotel awaits guests excellent menus at the restaurant Monaco. The restaurant serves both local Estonian and international cuisine.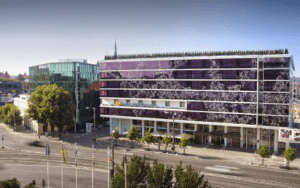 The Nordic Hotel's guests can enjoy a variety of amenities, which are available to all guests for free. It includes a sauna, steam baths and a hot tub. There is also a gym to work out in, as well as a business centre that guests can use. The conference facilities offered by the hotel is second to none with the choice of six modern and multifunctional conference and meeting rooms that are all equipped with state-of-the-art technology. The rooms on the first floor of the Nordic Hotel Forum can be used for weddings, conferences, seminars, meetings, banquets, etc. There is a dedicated events manager to assist event organizers to achieve a smooth running event. The conference rooms all boast natural lighting and includes the use of a data projector, a graphics projector, a DVD/VCR player, a large screen, a flipchart and the use of the on-site WiFi internet connection.
The equipment in the rooms:
Internet wifi
PayTV
Telephone
Minibar
The Monaco restaurant (named after the honorary consulate of the Principality of Monaco) is an ideal place to relax and unwind right in the heart of the city of Tallinn. With their top class and friendly service you can enjoy an invigorating breakfast, a tasty lunch or a luxurious gourmet dinner. They offer a special menu for kids. The Monaco restaurant offers modern fusion dishes, with a fresh take on classical and international dishes. There are a total of 152 seating places divided in 120 in brasserie-style and 32 in a more private style arrangement.
Restaurant Monaco opening hours:
Breakfast Buffet Mon-Fri 7am–10.00am, Sat-Sun 7am–10:30am
Lunch menu Mon-Fri 12am–3pm
A la carte menu Mon-Sat 6pm–11pm
Tel: +372 622 2990
Video of the Nordic Hotel Forum